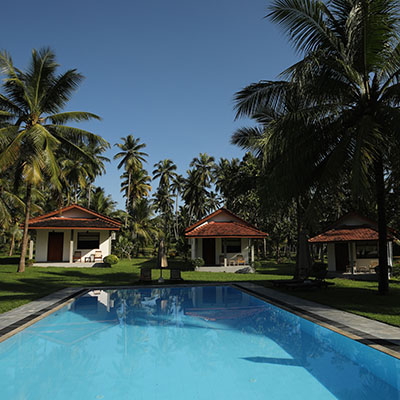 Located in the heart of a fully functional, 25 acres coconut estate, only 25 min. from the airport and on the road to the main cultural sights, Ambarella Lodge is an ideal starting or ending point for your Sri Lankan experience.
Large, well equipped rooms and terraces overlooking the pool and the garden ensure a comfortable and relaxing holiday. 
The local village that can be reached by Tuk-Tuk offers visitors an opportunity to get acquainted with authentic Sri Lankan village life and numerous excursions from half day tours to longer trips are also organized. Negombo and its beach is only a 30 min drive away and Colombo is close enough to be visited over the day.
A pavilion by the pool hosts the Ambarella Café which proposes fresh fruits and delicious local meals, all based on ingredients mainly produced on the estate.
Kotaliyade Estate is an organic plantation and at the Ambarella Lodge we have opted for an eco-friendly approach as well. Instead of PET bottles we serve filtered water in glass bottles, straws in plastic have been replaced by organic alternatives and we avoid using plastic in the housekeeping as much as possible.
Ambarella has signed a sustainability pledge. You can consult it here.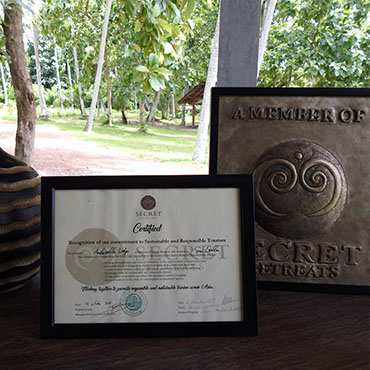 From the gardener to the driver, get to know the entire Ambarella Lodge team:
Mohan, has been with us from the opening and he's in charge of the daily running of Ambarella. He's also a real Jack-of-all-trades.
Whether a delicious meal in the restaurant, a refreshing drink by the pool or a chilled glass of wine with your dinner, Indika is your man. 
Hema works in the garden and also helps out with the traditional Sri Lankan cooking.
Sita looks after the vegetables in our organic garden. They are the secret to our delicious food. 
Dharme's family has been with us for generations. Not only is he the best driver one could imagine, he's also in charge of the running of our estate.
Sashi is our head gardener in charge of the spice garden and sometimes chef, with Sri Lankan vegetarian dishes as his speciality. 
Samith is Dharme's son and he and his Tuk-Tuk are ready to take you for a tour of his village and neighbourhood temple.  
Tarusha is our talented young chef, always happy to be preparing fresh Negombo prawns in our Pepper Grill.  
3 twin bungalows (one with connecting room) and 3 individual bungalows
Swimming pool
Small fitness
Spice garden
2 restaurants and bar by the pool
Badminton court, table tennis
Reception, small boutique